:: b i o ::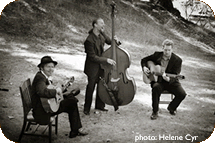 Cold Cut Combo - Gypsy Jazz Guitar
& more...
The Cold Cut Combo is a Victoria-based acoustic group of improvisational musicians specializing in Gypsy Jazz, Parisian Musette Waltzes and Swing & Latin standards. The CCC features virtuosic jazz Manouche guitars, soulful accordion, and sweet vocals.
At the Combo's core are Christopher Sartisohn (lead guitar) and Aaron Watson (rhythm guitar / accordion / vocals). This duo is often expanded to include upright bass, violin, percussion, horns and additional guitars and can be seen playing in Victoria's pubs, clubs, restaurants and lounges, as well as the West Coast festival circuit.
While the Cold Cut Combo's major inspiration lies in Gypsy Jazz, Flamenco, Musette, Latin, and Ethnic Folk music, the Combo have a decidedly original feel and fire up their music with their own expressive je ne sais quoi, capturing a vitality and freshness that makes this music contemporary once again.

The Combo's repertoire features Jazz standards from the greatest composers of the 20th century, including Duke Ellington, Fats Waller, Cole Porter, Carlos Jobim, George & Ira Gershwin and of course the great Django Reinhardt & Stephane Grappelli of the Hot Club de France.

Their 3rd CD release, "Live at Vista 18", was recorded as a Trio during the Victoria International Jazzfest and is available through their website.

>>> For more info, gigs, photos, CDs & MP3s, please visit www.coldcutcombo.com.